Fun for Everyone!
While you'll certainly be busy enjoying your big day, your guests may find themselves a little bored from time to time. Providing activities for your guests, especially at the reception, can make your wedding more memorable and fun for your guests. Here we will highlight our favorite fun ideas to keep kids and adults occupied and happy at your reception.
First, let's start at the reception table. From this Huffington Post article, we found some clever and cute ways to make waiting for the food to arrive more fun. A classic I SPY game is sure to keep all your guests, young and old paying attention. Cater the list to your family and your personality to make it special. Wedding Party reminds us not to forget to add pens and pencils on every table! Get extra photos of your special day by providing disposable cameras for players to snap their evidence.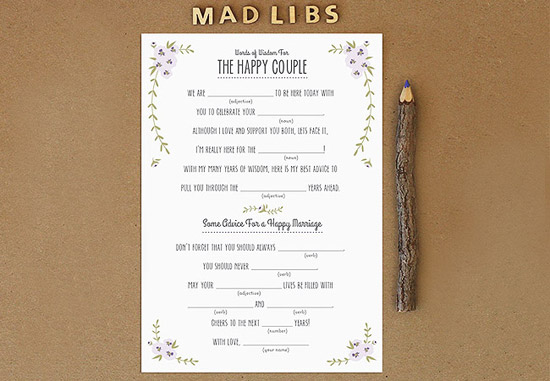 If I SPY isn't your game, get guests talking to each other with mad libs! Personalize the prose towards you and your soon-to-be spouse, and you'll have a funny keepsake from every table! There are so many different creative ideas for wedding mad libs: the proposal story, wedding vows, marriage advice, and thank you and exit cards. Start the fun early by turning your RSVP card into a mad lib too!
The married guests at your wedding are sometime too willing to share their advice for a happy marriage. But if you put a booklet on every table with great questions, you're sure to get some helpful suggestions for a happy marriage. Bridal Guide suggests questions like: "What should we name our first child?" or "How should we celebrate our our first anniversary?"
We all know that one guest who will keep clinking their class to get the newlyweds to kiss. Up the ante with this clever idea: The Kissing Game. Bridal Guide explains the basic idea in their penultimate slide here. Essentially, the guest must perform a dare pulled from a fishbowl in order to get you to kiss. They can range from the tame ("Do five push-ups") to the risky ("Sing Nat King Cole's 'L.O.V.E.' for everyone").
Now onto some lawn games! If your reception will be held outdoors and you've got some space to spare, why not use that yard space to entertain? Customize your own cornhole set with your wedding colors of monograms. Make any game lawn-ready by super-sizing it; jenga, dominoes, and chess boards can all become giant hits are your cocktail hour! And of course, don't forget the basic games like ring-toss, horseshoes, bocce ball, and croquet. Pinterest has tons of great yard game ideas, even down to the signage! Pick and choose your favorites and let the games begin!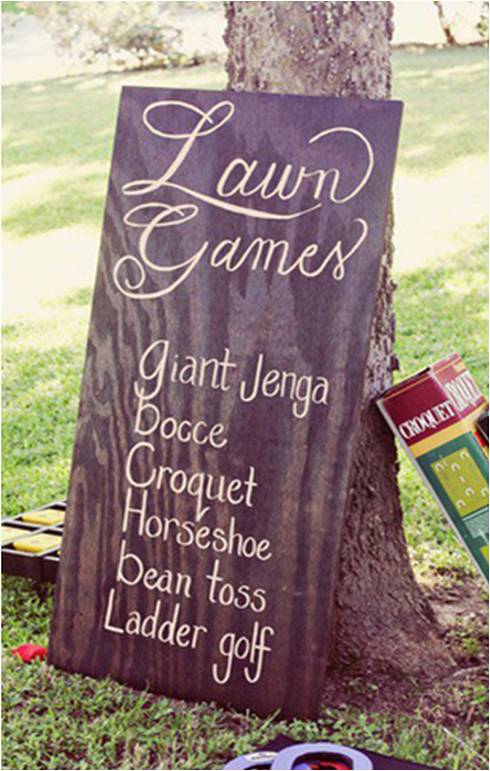 Child guests can be some of the hardest to please. But with these winning ideas, they'll have just as much fun as the adults!
A basic activity book can keep the young ones occupied. Order your own here, and place it on the table with some crayons and pencils. Or make an entire play bag with Play-Doh, stickers and small bottles of bubbles. Finally, a separate table entirely for kids to craft and play is a must for large receptions with lots of children. This party featured on Snippet & Ink organized an amazing kids' space. Check out this post on WeddingAppParty.com for a roundup of the best ideas for kids!
To end a night of wedding and reception fun consider this lovely idea: releasing sky lanterns! At twilight, every guest writes a wish, attaches it to the lantern, and sends it sky-ward. Create one special lantern for just your and your groom (see this helpful DIY) or buy biodegradable, earth-friendly lanterns.